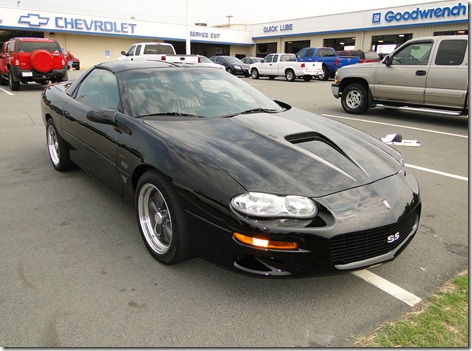 The Intimidator edition Camaro was developed by Dale Earnhardt to be a modern version of the Yenko Camaro. Only 83 cars were made into Intimidator Editions. The first 2 vehicles were prototypes, PR-1 and PR-2. PR-1 was owned by Dale himself and was used to promote his Intimidator line.  PR-2 was originally given to Dale Earnhardt Jr., who still owns PR-2 to this day. The third prototype is a 2002 model that was built for Kelly Earnhardt and she also still owns that vehicle. The remaining 80 were numbered starting with #1.
PR-1 and PR-2 are the only 2 cars built with lowering shackles. PR-1 is also the car shown in the magazine pictorial. In addition, PR-2 no longer has its original engine. The original engine was ruined. That means that PR-1 is the only original Intimidator with lowering shackles.
Of the 83 cars only 22 were able to be signed before Dale Earnhardt's death. The instrument clusters were removed, signed and put back in place.